We provide AM Detection System and RF Detection System with leading technology.
EAS Detection System is the core product of Detasec. Our Eas Detection Systems (aslo named Eas Antennas: AM Eas antenna and RF Eas antenna), which we produce, help shop owners combat in-store theft and strive to minimize losses. We manufacture EAS detection systems in different styles, including plastic, acrylic, and metal materials. Currently, they have been successfully installed by our distributors in over 40 countries. Detasec continues to innovate in order to introduce more high-quality products that help our distributors gain a larger market share.
DTAMX3
9050 EAS AM system, 1 control connect 4 antennas
DTAMX4
Ultra post AM Eas antenna, master-slave
DYNA T20
Ultra post AM Eas antenna, master-slave
DTAMN01
Concealed floor system EAS AM system
We Help You Win More Orders !
Detasec has leading technology and strictly controls the production quality to provide you with the most competitive products. Our sales team and technical team will provide you with the most professional service and support.
Our products and services will win you more orders, reduce your pre-sales and after-sales costs, and make more profits.
We Have Leading and Stable EAS Technology
Detasec equip our equipment with leading-edge technology and outstanding performance motherboards
Eas Acousto-magnetic (AM) system, which is also called Eas am antenna, operate at 58 KHz. It has good anti-interference performance and a wide detection range. Based on AM technology, We developed A1050, A1800, A2000 and Ultra motherboards. And nice frames are designed for these motherboards.
Long Detection range
Strong anti-interference ability
Manual adjusting and software adjusting
WiFi remote setting
Eas Rideo Frequency (RF) system, which is also called Eas rf antenna, operate at 8.2MHz.It is a very mature technology that used for retail anti-theft.
Based on RF technology, we designed WiFi mono 3.54 , 9550 Dual board, mono 3.54 & 3.93 board.
Good detection capabilities
Stable performance
affordable prices.
Manual adjusting (WiFi 3.54 board with software adjusting)
From the selection of raw materials to the end of product packaging, we have designed a complete production process and can control the actual product quality. In the current fierce competition environment, high-quality products can reduce your after-sales costs and increase your profits.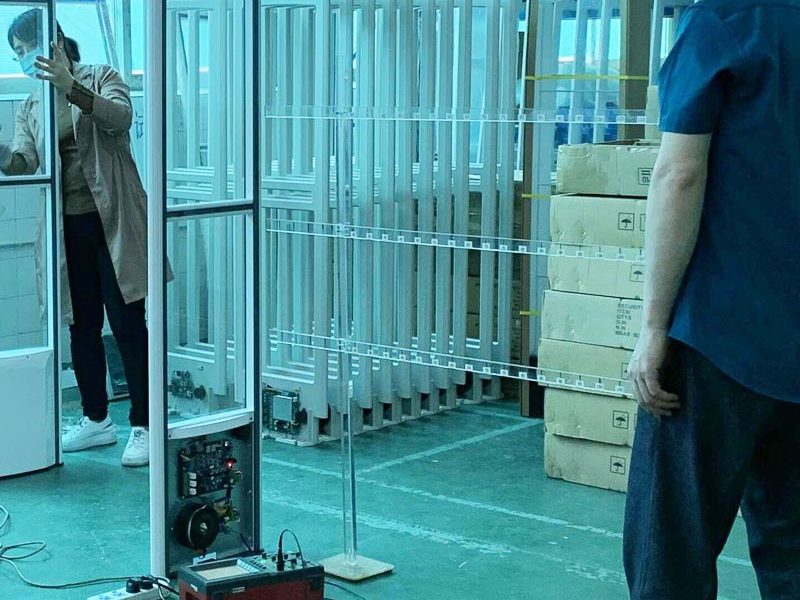 How Can We Handle Your Order
Order management
Detasec will arrange a special sales manager who will provide one to one service for all details of your expected products. Not just collecting abundant information about your packaging solution, but also provide non-stop service to meet your requirement and schedule, to assure the project goes smoothly as your expecting.
A Deatsec sales manager will provide below service:
Draw up initiate order with necessary information
In time and continuous follow up and evaluate order specification to adjust the production schedule
Provide practical support and service
Prepare and organize all necessary related documentation for this order.
Installation and Training
Detasec expert with 10+ years experience will help you with Eas antennas installation step by step if you need.
Detasec expert provides the following services:
Provides guidance and advice on installation. This includes phone calls, text or remote video guidance.
Cooperate with your technical team to adjust the on-site installation plan and give reasonable construction suggestions.
Provide for all necessary user's manual and and installation instruction video.
Packaging and Delivery
Detasec provides standard packaging and custom packaging services. We will give the data of standard packaging in advance for your reference. Custom packaging services include printing, changing packaging size and changing packaging materials, etc.
Detasec provides multiple delivery methods, such as EXW, FOB, CIF, etc. We will follow the terms of the contract to deliver and provide relevant information.
Please contact us promptly for any delivery questions or requirements.
Tel: 008615302632729, Email: info@szdeta.com
After sales technical support
Detasec will provide continuous after sales support to every customer. Also a solid warranty on each Eas antenna we sold, workmanship, performance, and solution response time. Detasec service departments prepare enough various materials stocking, ready for any urgent demand from customer, to assure the fast and efficient fulfillment of all orders.
Detasec service expert are all qualified with 10+ years experience to assure smooth installation. They also provide on-site training and onging support.
After sales expert support will cover below:
Assist with installation.
Device Troubleshooting
Solve problems such as false alarming, missing alarming, and co-channel interference.
DETASEC helps you become a leader in your local market !